About Sofia
Psychotherapist and Counsellor
I provide individual and couples counselling and psychotherapy in English and Portuguese to adults in a confidential and compassionate environment.
I aim to empower clients to overcome life's challenges by exploring their present and past difficulties and identifying the unhelpful recurring patterns that stand in their way.
I have been in practice since 2019, initially in the voluntary sector and more recently also in private practice.
My diverse career started in Lisbon, where I amassed a wealth of experience mainly in education, music and linguistics.
In Scotland, I have held a variety of roles in the public sector, where empathy and the ability to empower others were essential, such as Community Interpreter (Edinburgh City Council) and Community Participation Specialist (Scottish Parliament). I have also volunteered with several mental health charities and therapeutic projects.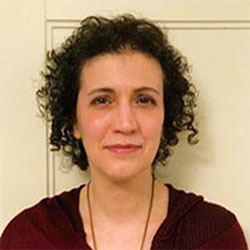 Training, Qualifications & Experience
2 year Postgraduate Diploma in Human Relations and Counselling (HDS, Glasgow)
1 year Postgraduate Certificate in Counselling Studies (The University of Edinburgh)
4 year Degree International Relations, major in Political and Cultural Relations (Institute of Political and Social Sciences, Technical University of Lisbon)
Certificate in Couples Work (Physis Scotland)
Membership of Professional Bodies
I am a registered member of the British Association for Counselling and Psychotherapy (BACP) and abide by its Code of Ethics.